While some of you may begin catching horse flies almost immediately after installation of our horse fly traps (see our Testimonials page), as a general rule, you should not expect a horse fly trap to eliminate horse flies in a short period of time.
Horse flies have evolved to find (and bite!) horses and other mammals, including us.  Any horse fly trap on the market is, at best, a close second choice for the female horse fly who is looking for a blood meal in order to reproduce.  Therefore, as long as there are still horse flies in your environment, no horse fly trap will entirely prevent you or your animals from getting bitten.
To enhance your success in catching horse flies, find the source of where the horse flies on your property are breeding and emerging as adults. Set up your horse fly trap carefully and in a strategic location. (See our Installation Tip section for guidance.) Then observe as the populations of horse flies decline over the course of a few weeks. (If you have experience with mosquito traps such as the Mosquito Magnet®, you will know that it takes several traps and a few weeks to begin to collapse a population.)  If you are still seeing horse flies and not trapping them, reconsider the location of your horse fly trap and move it to a better location.   Don't forget to call us if you need help placing your trap in the best location. 
The Bite-Lite® H-Trap Professional Horse Fly Control System has a lot going for it.  Yes, our horse fly trap may be more expensive than others, but we believe it has no equal.  If you are looking for a quality horse fly trap that will stand up to the wind, sun, and give you years of service, our horse fly trap distinguishes itself in many ways.   
To start,  Bite-Lite's horse fly trap is the only one that we know of that has a single steel leg!  You may ask, what's so great about a single pole?  And wouldn't those other commercial horse fly traps with four or three legs be a better, sturdier choice? Think about mowing around one leg compared to three or four legs in the lawn or pasture, and you have your answer!  How can a one legged horse fly trap be sturdier than other three and four legged units out there that are made with plastic, wood, or metal?  The answer is many fold.  An anti-rotation anchor welded to a ground rod keeps Bite-Lite's single legged frame wedged solidly into the soil.  We have not seen any other trap on the market that has this special feature.  In addition, our corrosion proof steel frames are dipped in hot zinc.  The frame is 2 mm thick, which is just under 1/8 inches.   We don't believe any other product out there is as strong or weighs a hefty 30 pounds.   The nuts and bolts are stainless steel.
The plastic used in the conical hood and collection bin have withstood improvements over the years from our European designer, most importantly UV protection.  That means these plastic parts on our horse fly trap are meant to last, compared to traps using canvas that will eventually fray and cheaper plastics that will crack.  In addition, the green in the plastic conical funnel does not attract the beneficial insects like honey bees.  
Finally, no other horse fly trap on the market has a feature like ours which allows the ball, hood, and bin to move with the wind. The top steel bracket is attached to a stabilizing ring, which has a gyroscopic effect, giving movement and stability to the horse fly trap at the same time.   Our customers tell us that the more movement they have with the H-Trap, the more horse flies they seem to catch!  
The H-Trap Professional Horse Fly Control System is specifically designed to catch horse flies only.  In order to purchase the right product for your property, remember that not all biting flies are horse flies, even though they may be bothering your horses!  The flies our horse fly trap catches are commonly known as greenheads, yellow flies, deer flies, and the large black horse flies also known as B-52 bombers.  Horse flies are from the family Tabanidae, and are represented in the above four pictures.  Other biting flies that bother horses and help carry diseases are stable flies and horn flies.  These are from the Muscidae family. 
To help identify which kinds of biting flies you have on your property and to distinguish between horse flies and other biting flies, click on this helpful link from the Cornell University College of Agriculture and Life Sciences: https://vet.entomology.cals.cornell.edu/arthropod-identification/cow-recommendations/cow-pasture-pests
Please call us at 855-248-3548 if you have any trouble identifying which flies are bothering you and your animals, and which fly trap would be best for your property.
"Yellow Fly" photo taken from http://bugguide.net/node/view/695231/bgimage.   Copyright © 2012 Judy Gallagher. Some rights reserved. Licensed under a Creative Commons License. https://creativecommons.org/licenses/by-nd-nc/1.0/.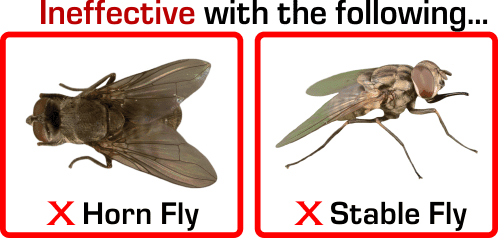 You can order our Bite-Lite® horse fly trap online by going to our horse fly trap order page and purchase items with our shopping cart system.   We accept PayPal and most major credit cards.
If you would like to become a reseller of the Bite-Lite®  Horse Fly Trap, please contact our Customer Service Department at 855-BITE-LITE 855-248-3548.  For our credit card form, click here.
We also can set up terms following credit approval.  Our terms are Net 30 days from the date of invoice.  For our credit application form,  click here, call Customer Service, or e-mail us at [email protected].
Shipments are made from Danbury, Connecticut by common carrier, typically FedEx Ground.
E-mail us at [email protected] or call us toll free at 855-BITE-LITE / 855-248-3548.  Our Customer Service Department is open Monday through Friday between 8:00 AM and 5:00 PM Eastern Time. 
Bite-Lite LLC is a Connecticut based family business founded in 2010 to develop and market the best and most effective natural mosquito repellent candles and other natural repellent products that are inspired by nature.  It is committed to serving the public's continuing needs for pest management and control.    Our first launched products were great smelling and Natural Mosquito Repellent Candles that our scientists were inspired to create after observing monkeys at a Florida sanctuary applying the juices from lemons and limes on their fur as natural repellents.   (See the monkey story video to learn more.)  After introducing our soy wax candles to the same monkeys and testing the efficacy of our proprietary blend of natural lemongrass and spearmint essential oils in the Florida Swamps in 2011, Bite-Lite® went into production with its first four natural mosquito repellent candles made in China.    In 2013, Bite-Lite® introduced its first American made premium soy wax Tin, and since then has continued to manufacture its mosquito candles in the U.S.   We offer a selection of candle styles that are versatile for all outdoor activities-   Tins, Pint Jars and Cylinders, both in glass containers, and Votives (6 pack).   The science behind our natural mosquito repellent candles lies in Cloak & Scatter® technology.   This chemistry originated at Bedoukian Research, Inc. ("Bedoukian"), a privately owned family run company located in Danbury, Connecticut, that has devoted its  five decades in business to creating both insect semiochemicals and aroma and flavor chemicals.   (Visit www.bedoukian.com and www.bedoukianbio.com to learn more.)    Bite-Lite® Natural Mosquito Repellent Candles use active ingredients that are sourced, blended, and tested by Bedoukian.    In July 2014, Bite-Lite® added a new nature inspired insect control product to its arsenal against biting insects– the H-Trap Professional Horse Fly Control System.   Designed in the Netherlands and made in China, the H-Trap uses nature to trick and trap the female horse fly.  As the exclusive U.S. distributor, these horse fly traps first reached retailers' shelves in the spring of 2015.   In April, 2016, the online equine retailer SmartPak (https://www.smartpakequine.com) introduced the H-Trap horse fly control system to its insect control category.   The following year, Spalding Labs added the H-Trap to its online site. 
To see what is coming down the pipeline and to read our blogs and latest news, check out our News tab!  To learn more or purchase our natural mosquito repellent candle products, visit our Bite-Lite website by clicking here.    To purchase an H-Trap, go to our horse fly trap Order page.